I have gone a bad few dates, to say the least. I am not a serial dater. Just like everyone else, I am trying to find my person. I am just going to blog the experiences along the way.
A bad date may be so disappointing to others, but to me, no matter how bad it is, I can find a way to laugh at it. Hence, my blog.
I have had many experiences with guys that in my opinion just don't get it. There are rules of etiquette when going out with a girl.  A recurring example of this is: If you (the guy) invites a girl out on a date, YOU pay. You DO NOT split the check, you DO NOT take her money if she offers. It's just proper dating etiquette.  (Please see previous blogs about this!)
I keep repeating it because it still happens.  I don't know if it's laziness or what. What I do know is, it's lack of manners, and it happens A LOT.
Some people have given me feedback  saying "Dating people from Match.com is where you are going wrong"
But I'm a good person, so I should be able to meet a good person on match right? Right….but it's not easy.
So when I agreed to go on a date with this guy from Match, I didn't expect what I got. In fact, I expected to go out, have a great time (that I usually create by myself anyway) and just come home, with the "On to the next" attitude.
That's not what I got…I got the opposite..and if anything..this blog serves the purpose of showing how a date SHOULD go.
I want to say not all dates have been bad, but for someone to be this attentive to the details of the date scored him major points.
It really is the little things that matter.  A guy with money can still take you on a shitty date. A guy with no money can still take you on an amazing date. It's all how they go about it.
We had exchanged a few emails and agreed to meet up. I wasn't sure if I was attracted to him or not, pictures are always hard that way. You just never know who is going to show up…I have heard the horror stories: "he/she looked nothing like her photos!" I haven't had that problem thankfully.
This guy lives in LA and was coming down to meet with me. Major points already.
Then he not only asks what my favorite type of foods are, he makes reservations for us….IN MY TOWN.
He offered to pick me up or asked if I preferred to meet him there. I said I would just meet him there. Then he emailed me the address to the restaurant, and says to just park on the street BUT, if there was no parking available to just valet and he would take care of it.
Wow. I didn't have to worry about a thing!! Not only did he come to my town but he took care of everything before I had a chance to have any questions.
Normally, when I meet a guy anywhere, they aren't concerned on emailing you the location of the restaurant so you don't get lost or are even concerned with where/how you are going to park. Especially in your own town!!
I already felt special.
He made reservations at Indigo Grill. I had never been. When I walk in, he stands up and this is where it gets interesting.
I have met guys that have lack of confidence seeping through their pores.That or, they can't appreciate meeting with a lady, because they are so jaded, and greet you with the ever so charming "Sup".
Not this guy. When I met him, he got up and hugged me like I was a long lost friend. Smile from ear to ear, not in a creepy way, not in a gross way, but a genuine happiness. I felt a great energy immediately from that. He didn't even give me a chance to analyze if I was physically attracted to him or not.. and for once it didn't matter. I wasn't looking at him like just some guy, he was something else…He smiled a lot. I just melt when someone is that genuinely happy with life.
I don't have a type. Every guy I have dated has been different from the last guy. I know no one is perfect either but when people do ask me what my ideal match is, I usually say: "A genuinely happy guy" A guy that when he speaks to you, it's like he would talk the same way to everyone. Not like he's hitting on me when he talks to me, but is just happy with life.
We had a great dinner…FOOD WAS SOOOO GOOD! http://www.cohnrestaurants.com/restaurants/indigogrill/
And the conversation was even better.  I walked in the door around 7:20…next thing I know he asks "Are you ok on time? I know you have to work tomorrow." I said "Yeah sure, what is it like 8:30 or something?" He showed me the time…no joke 10:56 pm, and we looked around to notice that we were the only ones left in the restaurant, and well you know the saying…..

We talked about everything! I found myself sharing my dreams, my fears with him, and him with me. What was it about this guy?
As I started to think about it…I found that I was totally attracted to the fact that…he wasn't hitting on me. He made me feel comfortable. Very easy to talk to kind of guy. He was confident, not cocky at all. He said something about looking beyond my flesh and I felt I was doing the same with him. Though I did find myself attracted to him but because he just had a great presence about him.
He was a true gentleman and it wasn't cheesy at all. He kept his eyes on me the whole night, did not look at another girl passing….not once.
We left the restaurant and he walked me to my car. He didn't try to kiss me. Which was a nice change. Sometimes it's good to build the suspense.  So I came home and went to bed with a smile on my face.  "Why am I so smiley?" I thought,  "Snap out of it Lo!" It was nice though. Really nice.
He text saying he had a great night and looked forward to hanging out again.  I did as well, and was wondering if/when we'd go out again….I got an email from him the next day for our second date. He really listened to me and what my interests were. The guy dug deep. He Was interested in knowing about me which was so nice considering my New York date, the guy hardly cared to know anything about me at all.
Sometimes I wonder if people are really put in your life to make you appreciate something or someone else. I really appreciated that this guy wanted to know me. And who knows, if I hadn't had the bad experience, maybe I wouldn't have appreciated someone who asked as many questions as he did.
As he starts describing our next date, he said he wanted to take me to a museum, followed by a massage, then a yummy Italian dinner, then followed by pool and beer. All things I love, or would love to do more of, because well, I suck at pool but it's still fun to try it.
Because I have never had someone be this attentive, my brain doesn't know how to calculate this…so my mind gets going…
"Maybe, just maybe this guy is too good to be true and as the saying goes, often times it probably is."  I had people telling me  "sounds like he's trying too hard, that's a red flag", Or "he's trying to get laid" and to be honest, I did question it…but then, I got this text from one of my best friends and she said this:
"I have been thinking about you this morning… I know you don't want to let your guard down with this guy and you think he may be too good to be true, but let it go. You are a wonderful person that deserves good things. If he isn't what he seems that's his problem.  He will get what's coming to him, if that's the case.  Just don't expect it. Expect good because you deserve good."
I had to take a second, she was right. I do deserve good.  So I agreed to go on a second date with him.
I drove to LA this time. He picked me up from a friends place and took me to the Norton Simon Museum
You can get so lost in the sheer genius of the artists and their paintings! If you haven't been, you need to go! I think I caught myself a couple of times having to pick my jaw up from off of the ground, because I could not believe the amount of talent held in one area.
After that, we had some time, so we decided to have a drink and stopped at Pop Champagne Bar and well, popped champagne of course! 🙂 We shared a couple of glasses before heading over for a massage. He had said "I want you to relax and have fun, you are so busy all of the time, I want you to enjoy this day, this day is about you."  I felt like I was in a movie or something.  As he was telling me this, I almost turned and looked behind me and said "who me?" Then realized, yes dummy, he's talking to you! Wow,  I was already having a great time, and the day wasn't stopping, really?! I felt like a princess!
As if the date could not get any better!! After we have some champagne, we head over to Burke Williams Spa in Pasadena
We parted ways for a bit, I went to the womens side, he went to the mens.  I was in there relaxing, getting ready for my massage and I still couldn't believe I had been on such a thoughtful date.  I was enjoying it though…thoroughly!!:)
My massage was amazing. I felt incredibly relaxed after, and then he takes to have a yummy Italian dinner. The guy is a foodie which I love, I don't like guys who don't like to eat. It's not attractive to me.  Saying some dumb shit like " I don't eat that," Is a quick way to get me not liking you and possibly ordering double of what ever it is you don't like and eating it in front of you just to irritate you.
After a lovely dinner, we headed over to Barneys Beanery where we had a couple beers. The conversation was flowing. So much so, that we both looked at each other totally surprised when we heard "Last call" Wow….again, didn't realize the time!
He drives me back to my friends place and hands me a bag…a pretty one, I said thank you…and he laughs and says "well open it, who gives you just a bag?!" The bag had this pretty velvet print, I would have been happy with just that!
During one of our conversations I told him I had attended an 80's party where they played my favorite Movie
"Girls Just Want To Have Fun"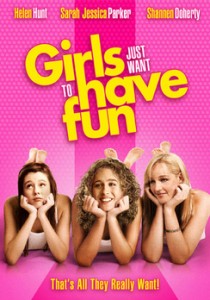 I told him I couldn't believe that I hadn't owned this movie yet!
When I opened the bag, I pull out the DVD…I almost peed my pants with excitement, well my dress, but you get it. I was so surprised that he remembered, as that conversation was several weeks ago. Nice.
Our evening ended…. and I was a very happy girl.
As I was trying to fall asleep, I said again… "I do deserve good. I did deserve this day. I did deserve to be treated like a princess." I'm just not used to it at all, and I have such a hard time accepting anything from anyone.
I just think we can be so used to going on average dates, and all around, dating has become such a task, it becomes normal to not expect a lot and to not give a lot either.
In this case, I find myself wanting to plan a fabulous day of pampering for him. I usually don't do this..simply because I haven't met anyone I have been interested in getting to know better in a long time, and haven't met someone who has put forth so much effort in getting to know me.
I don't know where this is all going, we may find we are better suited as friends, and that's ok…but I do know this, if we never go out again, this was, hands down..thee best date I have ever been on.  Not just because of the places he took me, but because of the company I was with. None of those things matter when you are with someone you aren't into…and when they aren't into you. I am interested in getting to know him more, treating him as well as he's treated me, and really learning to accept the generosity without feeling like he's trying to get something from me.
I do love being single. It's fun, and thankfully I have found a way to make light of every date and situation. I love my space, love my freedom and am glad I don't need a man to complete me.
However, I'm open to a relationship and open to someone changing my mind about wanting to stay single. 🙂
What are your thoughts?  Could I POSSIBLY go from Adventures of a Single Girl to just: Adventures of a…Girl?